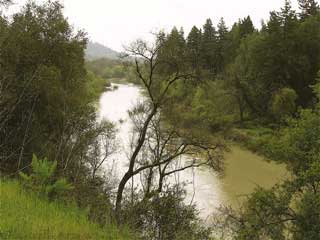 Russian River Zendo is a small Zen Buddhist community about 75 miles north of San Francisco




The purpose of the Russian River Zendo is to provide to the residents of the Russian River area, and to visitors from everywhere, a formal Zendo for zazen meditation and an informal teaching space for seminars, classes, and other Instruction, to express and embody the wisdom and compassion of the Buddha. Our Zen practice is particularly for people with active work and family lives who want to practice mindfulness and kindness in their everyday activity. We meet in the homes of our community members.




Our teacher, Tony Patchell, is a San Francisco Zen Center-trained priest who has translated his Zen training into hands-on community work. He brings four decades of sitting practice as well as enormous practical experience to our community.
---
14050 Gabes Rock Road
Guerneville, CA 95446
(see below for mailing address)
Please wear simple loose comfortable clothing suitable for sitting on the floor (chairs are available if needed).

Directions: Directions: Turn off Rt 116 -- Main Street in Guerneville -- onto Gabes Rock Rd. This is a small road coming into Main St on the right side and is not easily seen. Go past the large park & ride lot on the right. On the corner is a Mexican restaurant whose neon sign can be seen from a distance. Look for these landmarks because the street sign is not very visible. Once on Gabes Rock Rd, climb; we are nestled into the first large curve on your left: a red house with green trim.



For information:

Call: 707-869-3787

Mail: Box 2234, Guerneville, CA 95446
(please use above PO Box for all mail correspondence)

Email: Zentrash@att.net

The teaching at The Russian River Zendo particularly emphasizes:


--The role of the body in practice. In addition to sitting zazen in a variety of postures, we will practice meditation on movement. Much of the suffering we do as human beings arises from the inescapable fact that we inhabit a body of flesh and nerve fiber with its inherent unease, its longings for security, its terror of death, and its tendencies to age, fall ill, and die. All suffering resides in the body/mind, and all release from suffering is learned through the body/mind.

--Body-to-body, one-on-one relationships as the basic paradigm of zen practice. We understand Soto Zen practice as a direct, intimate connection with another human being, "warm hand to warm hand," as Suzuki-roshi called it. --Working closely with people who are coping with chronic pain, emotional despair and catastrophic situations.

--The cultivation of radical presence and personal responsibility for what-is, rather than adherence to doctrine or codified beliefs.

--Community work as an integral part of Buddhist training and practice. Students training for both lay and priest ordination will be expected to devote several hours a month to dana practice, training through generous giving.

--Lay life as it is actually practiced by people with families who are working members of their communities, with concerns about ethical issues, Right Livelihood, familial and corporate relationships, social and political involvement, and emotional situations in American society today.
---